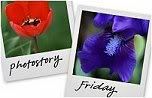 Hosted by Cecily and Linds
In September, 2006, my Mom, cousin and I walked in the Susan G. Komen Breast Cancer walk in Chicago. It was a 3 day, 60 mile walk in the name of breast cancer. We had to raise just over $2,000 to participate. It was hard on my feet, my spirit and body. But in the end, my spirit was actually strengthened by the sheer number of people who not only participated but volunteered time to help those of us walking. It was an experience of a lifetime, one I would love to do again some day. My Mom was worried she was too old to make it but she did great..and my cousin did, too.
If you ever get the chance to walk in this amazing event, DO IT.
3 Days, 60 Miles..