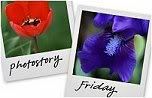 Hosted by Cecily and MamaGeek

what are you to do when the temperature outside is in the negative numbers and the windchill is even lower? the kids get a snow day ( it was more of a cold/ice day here ) and need something to do. well, how about we go from this...
to this!
yeah, it was made from a box but it was the box with double the blueberries. and they were d.e.l.i.c.i.o.u.s.!