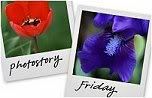 Hosted by Cecily and MamaGeek
our sleepy little town hosts a fireman's jamboree each summer. we have the parade, food, entertainment~ you name it, we have it. we have missed some years as we have been on vacation. (we missed last summer and the kids were not happy!)
the previous summer, my niece and nephew were here to
make us go down to the park more than once each day
enjoy the festivities with us. they had a crazy booth...pay a few bucks and go in and see strange and weird animals. my son wanted to go but no one else did. we tried to convince him it was a
scam
waste of money but he just insisted he go inside. the lady was nice enough to ask if I wanted to go with him...she was getting the impression he was scared...did mom want to go in with him? since I
didn't have to pay the ridiculous entrance fee
want my child to be so scared, HA, I would go. she let me in for free!
little did she know I had my camera in my pocket..
this is one of the animals that was inside.
yup, an animal with too many legs...
I brought my camera out (and my son) and then after we walked away from the exhibit, I showed the rest of the family. we sure did get a great laugh that day!
PS I thought I might post a normal picture, too...see below..