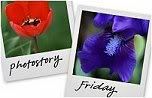 Hosted by Cecily and MamaGeek
we love Halloween here. well, at least I do. when my kids were young, even too young to remember, I decorated. my mom decorated...not to the extent that I do, but she did. I enjoy crafty things, too, and am always trying to make decorations without spending much if any money. for example, turn a milk gallon upside down, the handle in the back and draw a face on it with a black sharpie. sponge paint it, put some lights in it and put it on a dowel, etc... dress it up and viola!, you have a person. maybe I will add a photo of that one. on to the original photo....take some outside play balls (visit the dollar store) and wrap black garbage bags over them. then buy a mask (I found mine at walmart for one dollar) and put it on the "head" you just made with the ball. I use spikes for lights (maybe at the holidays, you line your driveway? they are green and flexible) secure the curved end you would normally put the light in around the strap of the mask and push into the ground to make sure the head won't move. I also used some monster hands I had...it looks like the faces are coming up out of the ground. easy and very inexpensive.
now off to find the other photo...
sorry, can't find it but here is another shot of some of the decorations we do... oh, wait, if you look in the upper left corner, the green head on the one body is actually a milk gallon. if you want more info on how to make the bodies for next to nothing, you can email me at
encouragesilly@gmail.com